We like to share our experience gained to all interested parties. No matter, whether they aspire to a similar project as villagers or initiative or whether they are interested in a planner for the technical intricacies.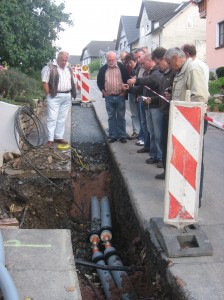 The bioenergy village Effelter can with its technical facilities (Heating and biogas plant) be visited at any time.
If you would like to arrange a personal tour, so too is easily possible. We offer three-hour sightseeing included. PowerPoint presentation on the desired date, and calculate for an allowance of 150 €. It is, of course, made a statement. In three hours we will inform you in detail about the technical and economic concept as well as the Community Planning- and implementation phase, we will show images from the planning- and construction and are available for detailed questions you may have.
Please arrange in both cases an appointment with us.
Contact person:
Bioenergy Village Effelter GmbH & Co. KG
Managing Director: Call Marcus
Phone: + 49 (0) 92 60 / 94 81
Fax: + 49 (0) 92 60 / 94 82
E-Mail: info@bioenergiedorf-effelter.de