The main participants in a bioenergy village are the inhabitants. Without their commitment and without their active participation in such forward-looking projects can not be realized.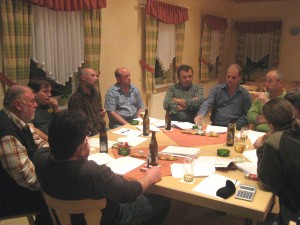 To create acceptance in such plans, it is important, to win as many villagers for their cooperation and connection to community energy generation plants. In many village meetings, the rough concept for future energy supply was presented by the project initiators and discussed. In order to achieve the earliest possible planning participation of local residents, planning groups were formed in the village, dealing with various topics such as the relocation of the local heating network, the future organization of the operating company (Legal form, Deposits, etc.), the location of the heating plant, wood procurement and storage u.v.m. involved. Issues such as the preparation of celebrations (z.B. for the inauguration of the power plant in the village and the bi-annual bioenergy village festival) are of crucial importance and were jointly discussed and clarified.
The working groups were in addition to the two employees of the Energy Vision Franconian Forest, Wolfgang Böhm and Matthias Degelmann supported by external experts (Lawyers, Accountants, etc.). For detailed technical planning two experienced consultants were commissioned.
The central planning group has earned the right for Effelter concept in numerous meetings, Heat- coordinated and wood supply contracts to meet the needs of their village Heating, Neighbors informed and guided the process towards the bioenergy village about two and a half years of success. In addition, various approaches to financing in the various systems were developed.
Still, after the main components are reacted, is the idea of ​​development and implementation of the planning group further. So z.Z. a larger storage chips in the planning or the development of a concept, how to make students from the region and beyond familiar with the bioenergy village concept.