The Effelterer are grateful for the free program for "Bioenergy Village 2010″. Planning Director also congratulated the village of Hepple.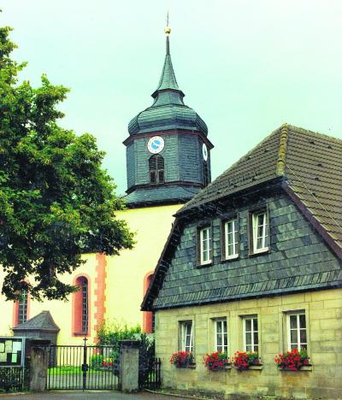 Effelter – Marcus Appel sees the 10 000 Euro severe Award "Bioenergy Village 2010″ especially in appreciation of the effort and commitment of citizens, which was developed in the past three and a half years Effelter. "This encourages us, to continue and to be active in the future in the field of renewable energy and sustainability", he says with regard to the year built photovoltaic system. Many groups of visitors, who want to get a picture of the bioenergy village site, were impressed by the momentum. "Who are enthusiastic, how such a thing can happen in a village with support from outside. One can see, that even in small structure, somewhat isolated, much can cause, if you want and is working together. The Joint is the most important", Appel says Marcus.
Common way
Even with Wolfgang Degelmann of the Energy Vision Franconian Forest, the joy is great: "The award highlights the beacon of Effelter in the nature park out again." The price was very important, because it underscores, dass man weit über die Grenzen des Landkreises hinaus gesehen habe, dass sich eine Region gemeinsam auf den Weg gemacht hat. Dieser Prozess laufe an vielen weiteren Orten. Die Dorfheizung Hirschfeld sei in Betrieb, in Mitwitz fange man an zu bauen und auch in Selbitz solle eine Dorfheizung noch heuer ans Netz. Effelter habe aber einen besonderen Werbeeffekt. "Bei jedem Bus, der nach Effelter zur Besichtigung der Dorfheizung fährt, und die Bevölkerung erlebt, die geschlossen hinter ihrem Projekt steht, springt der Funke über. Das ist die beste Werbeveranstaltung, die es gibt", ist sich Degelmann sicher und fügt hinzu: "Der Preis hat auch das Miteinander der Bevölkerung vor Ort, the "an einem Strang ziehen", ganz deutlich gewürdigt."
Praise also came from the Chief Building Director of the Office of Rural Development, Anton Hepple, as well as by Mayor Wolfgang Foertsch.
Those: www.np-coburg.de