Effelter in the Franconian Forest nature park has been 2009 a bioenergy village and its power supply completely with electricity and heat from renewable energy sources.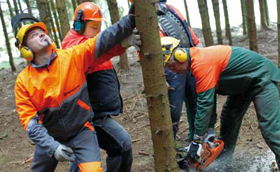 The start for the transformation into a bioenergy village 2002 with the commissioning of the biogas plant Effelter, to 2011 the only one in Kronach. With the involvement of the citizens brought from the beginning actively in the planning. After about two and a half years, thus creating a proof concept implementation, which paved the way for bioenergy village. In all the necessary work you have invested in Effelter also own hands.
The conversion of the heating system to the machine shop so you could just 5 Realize months. The Citizens heating, Community district heating and photovoltaic systems on the roof of the heating plant were summarized in a GmbH. Citizens join as a shareholder and thus become their own energy entrepreneurs. In addition to the favorable energy prices creates a strong identification with the project.
Basis of energy supply in Effelter is the biogas plant, is fermented in predominantly grass from the meadows of the Franconian Forest. The fermented slurry is again applied to the fields as fertilizer. The result is a completely self-contained cycle. In summer, the heat of the biogas plant is sufficient for the originally 37 connected houses. This is not enough waste heat, will 500 supplied switch kW wood chip. This wood is used from the surrounding forests. The Ashes, which results from the combustion, in turn, is used as fertilizer in the forest. And so we come here again in the ecological cycle Effelter.
One 2,4 km of district heating system saves households up to 10% their previous heating. Through the use of photovoltaic systems can be reached in Effelter today in combination with the biogas plant, a power supply of about 200%.
The desire for this common heating came under Mayor Wolfgang Foertsch of the population itself. The citizens of Effelter love the challenge.