About 40 Companies had applied for the award, was advertised in three categories and was awarded among others, the regional marketing Kronach Creativ.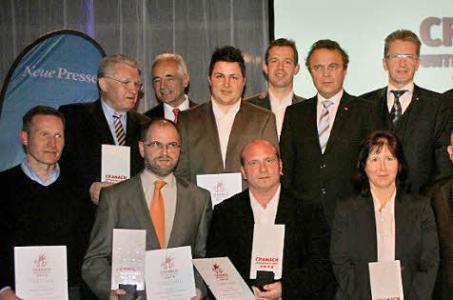 The Innocept engineering GmbH, Kronach / Neuses is the first winner of the Cranach Enterprise Award in the category "Foundation". In the area of "Innovation" could Guntram Wolf GmbH woodwind instruments will be chosen as the winner from Kronach. When "Regional commitment" The Wonder Kostner Automation GmbH was honored from North Half.
Excellent company
Alexander Müller, described this ceremony in his home, the dealership Müller, A novelty. The award show, what great companies exist in Kronach.
The Innocept engineering GmbH in Kronach stands for the product development of complex plastic parts in various industries. Especially the automotive industry plays an important role. Be developed by the operation, for example the case for car mirror or inside handles for car doors.
Innovation in instrument
The Guntram Wolf Woodwind Instruments GmbH in Kronach stands for innovations in instrument. Thus, the family has developed an oboe, the louder sounds than conventional instruments. Has also developed a comprehensive children's program of orchestral instruments, oboe, Clarinet and Bassoon. Now the company is a household name among musicians worldwide.
The Wonder Kostner Automation GmbH from Nordhalben created control- and test systems for special machines. The company currently has four employees. The operation has a significant share of this, that in North Half a district heating network could be realized. Countless volunteer hours have been invested in this project.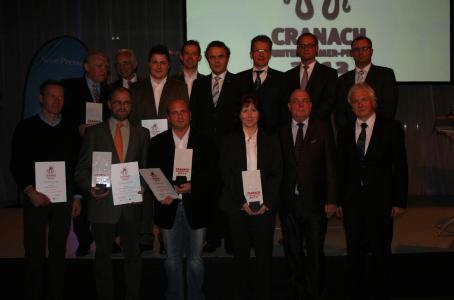 Awarded the Readers' Marcus Appel was with his bioenergy village Effelter GmbH & Co.KG. The farmer has invested several years ago in a biogas plant. This formed the basis, to become independent around the village Effelter of major energy suppliers. About 40 Buildings are connected to its own district heating network, which is supplied by an agricultural biogas plant and a switchable chips work. Meanwhile, more than 200 Produced percent of the electricity required. Fuels are corn, Grass, Manure, Wood, Sun and water.
The patron of the event, German Interior Minister Hans-Peter Friedrich called this ceremony as an opportunity, to present the strong economy of the Franconian Forest. He described the middle class as the "Heart of our economy". Practiced in medium-sized companies corporate structure was a great advantage over the resident, especially in urban centers, often inflexible large companies.
Memory of first Auslobung
He thanked the successor generations, not their heritage "verklopfen", but also to make this and take responsibility for their workforce. The chairman of Kronach Creativ, Rainer Kober, recalled the founders of Price, which had been awarded in the 90s, composed of regional marketing for the first time. He spoke of an extension of the Competition on all aspects of successful work in Kronach.
Those: www.infranken.de